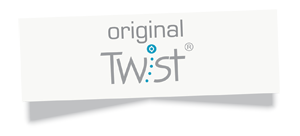 Original Twist Banner
The Twist Original is the cornerstone of the Twist product range; its versatility means that it can be configured to suit a wide range of display needs.
With its patented tensioning system any number of Twist Original stands can be easily joined together to form a seamless backdrop(Easi-Link Kit required). Black, white or standard silver bases available.
Name

Description

2m Original Twist banner

Original Banner, Finishing bars, printed graphics, supplied in a box and graphic tube 2m high, all widths

2m Replacement graphic
Replacement graphic, finishing bars, graphic bag, 2m high, all widths
*Prices are based per unit. Delivery and VAT is not included and will be charged accordingly.