Twist Hardcase
Designed and manufactured specifically for the Twist range, the Twist Hardcase is the perfect solution for transporting graphics and Twist equipment. The internal dimensions and foam inserts ensure a secure fit for all hardware preventing damage in transit.
Constructed from recyclable MDPE; which has excellent shock and drop resistance; the rotational molded case comes complete with two cardboard graphic tubes.
---
Twist Hardcase Conversion Kit
The Case Conversion Kit and appropriate graphic wrap, converts either one or two Twist Hardcases into a single or double podium or reception point. Available in beech or black finishes the double or single case top can be folded and packed into the Hardcase for easy transportation.
---
Twist Shelf
The Twist Shelf has a maximum load bearing of 2kg, which gives the option of displaying product or literature. The shelves are available in either a beech or black finish and use neodymium magnets for added safety and stability. The Twist Original stand has the ability to take up to three shelves.
---
LED Light and Transformer
Compatible with the Twist Original, Media and Travel range, the integrated light fitting has fully adjustable head and telescopic arm allowing adjustment of 175mm - 390mm. The 12V transformer has surge and short-circuit protection and is suitable for use in the UK and Europe.
---
---
Graphic Bag
The Twist Graphic Bag is an easy way to transport any Twist graphic panel up to 1000mm wide. It has a black fabric outer covering with carry handle and shoulder strap. For extra protection the inner tube is made from a high density cardboard. Internal Dimensions 190mm Ø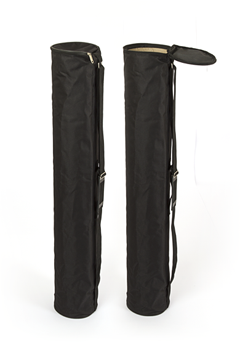 ---
Graphic Drum
Offering additional protection to your graphics the wheeled Graphic Drum is robust and easy to transport. Constructed using the same process and materials as the Twist Hardcase the Graphic Drum comes complete with an internal cardboard tube.Internal dimensions 1020 x 295mm Ø